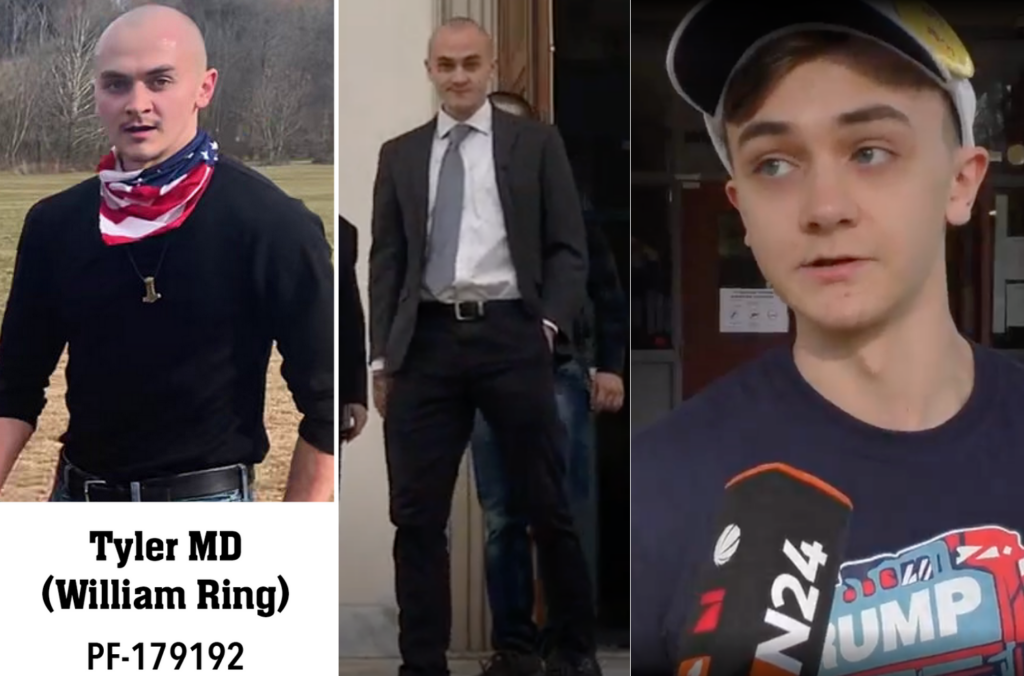 William Alfred Ring was identified as "Tyler MD" from messages and photos contained in the January 2022 Unicorn Riot leak of the Patriot Front chat server. In 2016, when he was 18 years old, William Ring was living in Portland, Oregon and voting for Donald Trump in the presidential election. Five years later, in 2021, he was on the east coast and active in the fascist Patriot Front organization. He appears to live in various towns around the Pittsburgh, PA area.
Within Patriot Front, William Ring acted as an "aid" to Grant MD (AKA Daniel Turetchi) and was very involved in the organizing of the December 2021 Patriot Front march on the US Capitol. He scouted locations, acted as security for the Patriot Front camp where they mustered ahead of the march, and was on one of the little plastic shield teams for the actual march. William Ring was involved in vetting prospective Patriot Front members, and also was responsible for putting up of Patriot Front propaganda in the DC area and Pennsylvania.
In June 2022, local Pennsylvania news reported that William Ring was arrested on hate crime charges for striking a teenage girl of Hispanic descent in the face in and yelling racial and ethnic slurs at her. In August 2022 he appeared in court on those charges and was filmed by local media leaving court with a Nazi pal who shouted "28" at the cameraperson. "28" is the numeric code for "BH" or "Blood and Honour," an infamous neo-Nazi bonehead gang. One month later, in September 2022, William Ring was arrested again, this time for hitting some guy with a baseball bat wrapped in barbed wire and punching two women in a fight over a refrigerator his roommate was getting rid of.